Welcome to The Graphic Mac, a site dedicated to providing graphic design resources, Adobe Creative Suite and Mac OS X tips & tricks, software reviews, and commentary on all things design, Apple, and the Internet.
About Me: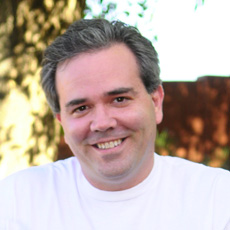 I'm the owner/author here at TGM. I started the site (originally the "CreativeGuy" blog) because early in my career I had a difficult time finding help and solutions to problems learning the graphics applications I was using. It was a time when information sharing wasn't on the top of other designer's priority list, and the Internet had not yet been born. I always hated that.
The Graphic Mac is my attempt at helping other designers and Mac users, particularly new Mac users and designers, gain useful knowledge, find new resources, and have a little fun at the same time. After all, we're all in the same business, and well all have something worth sharing. I have over 20 years of experience in the graphics and printing industry, including newspaper, print shop, design & PR firms, and ad agencies. Because of this, I like to think I've got a little something to contribute. And I hope you find it worth reading about.
I've written for several technology sites around the web, including Macworld.com, TheAppleBlog.com, and CreativeBits.org. You can follow me on Twitter, and Facebook, as well as LinkedIn.
Tech Stuff:
The Graphic Mac is powered by WordPress. Everything on the site was created using Macintosh hardware, Adobe Photoshop, Illustrator and Acrobat – as well as some other mighty fine shareware and freeware apps. Thanks for visiting The Graphic Mac!