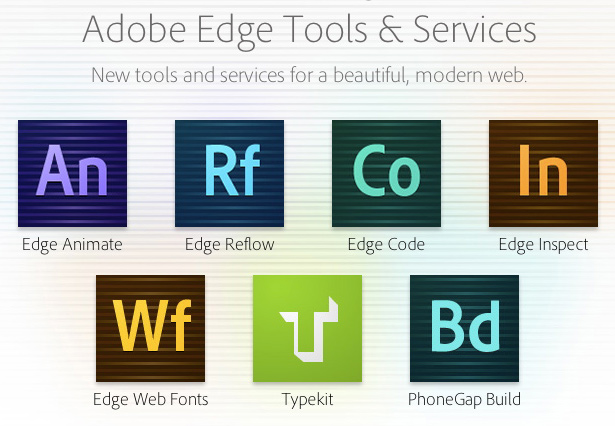 Most designers know about Flash, Dreamweaver and Fireworks. But did you know that Adobe offers a plethora of modern tools for website creation? You'll have to be a subscriber to Creative Cloud, but there is a free version available. Adobe Edge Tools & Services offers seven tools that every web designer and developer will want to take a look at. I suspect that these tools are Adobe's future in the web arena.
Edge Animate:
Create interactive and animated content using HTML, CSS, and JavaScript. Because you design in an environment based on WebKit, your content will display reliably across modern browsers and mobile devices.
Edge Reflow:
Create responsive layouts and visuals with standards-based CSS. Edge Reflow offers an HTML-based design surface, enabling web designers to accurately and confidently realize their visions throughout design and development.
Edge Code:
Code content and applications with HTML, CSS, and JavaScript using Edge Code preview, a distribution of the Brackets open source project. Work fast with an innovative code editor that works well with other Edge Tools & Services.
Edge Inspect:
Preview and inspect your web designs on mobile devices. With Edge Inspect, work more efficiently using synchronous browsing and remote inspection, and grab screenshots from all connected devices with a single button click.
Edge Web Fonts:
Get started with free web fonts.
Type Kit:
Use commercial fonts on the web.
PhoneGap Build:
Package mobile apps in the cloud.
You can get more information about all the Edge Tools & Services here.