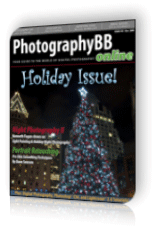 Photographybb.com has their latest e-Magazine available for download now. The holiday season is upon us and what better way to celebrate than to grab a cup of hot chocolate, kick back, and enjoy the December Issue of the PhotographyBB Online Magazine. This month, we head back to Moscow where Jon Ayres gives us a look at how the holidays are celebrated in Russia. We've also made some slight changes to the magazine to include more "how-to" style articles. Check out this month's issue for:
Night photography techniques – Part II – Painting with Light and Holiday Lights
Best Shooting Gear for the Holidays
Better Portrait Posing Techniques
Mastering Photoshop Brushes
Pro Retouching Techniques
and more!
Be sure to grab all the back issues while you're there. All PhotogrpahyBB issues are available as downloadable PDFs, ranging in size from 5-12MB each.