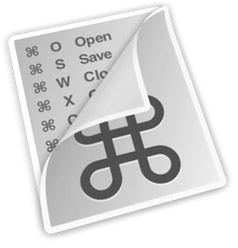 Knowing and using keyboard shortcuts can save an incredible amount of time over the period of a full work day. Not to mention it doesn't stop the flow of creativity.
Having used the Mac since the mid 80s, and Adobe Creative Suite apps just as long, my brain is trained to use keyboard shortcuts. I can't remember the last time I moused up to the menubar for something that has a keyboard shortcut available.
Learning keyboard shortcuts can take a long time, but a clever Swedish developer has created CheatSheet for the Mac OS X 10.7 that displays all the available keyboard shortcuts for the app you're working in with the click of a button.
CheatSheet is a faceless application. There is no interface, no preferences to set. You simply hold the Command key down and a large white overlay appears which displays all the keyboard shortcuts. CheatSheet runs on Lion only, and is free.