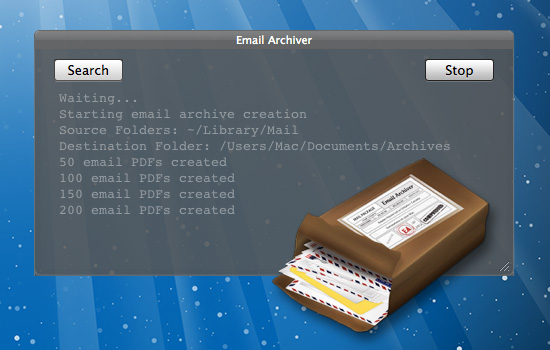 There are plenty of reasons for wanting to permanently archive your emails, not the least of which is making sure you have a record of agreements you've made with clients. Whatever your reason for wanting to archive your emails, there is a simple solution for Mac users that ensures future accessibility.
Email Archiver creates a PDF file of each and every email in Mac OS X's Mail application. The advantage of a PDF archive is that they are compatible with so many applications, thus making it future proof. The app simply scans all (or some) of your mailboxes and folders in Mail and creates a PDF of the mail, including a full email header for searching purposes, and creates PDFs of each email in hierarchical folders in the Finder location of your choice.
Email Archiver normally costs $9.99, but is free right now on the Mac App Store.