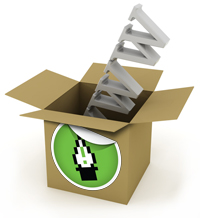 A collection of interesting or otherwise helpful links I've come across recently that you may not have seen:
Quicken replacements for OS X Lion
If you rely on Quicken 2007 for your personal finance management AND plan on upgrading to Mac OS X Lion, you have a decision to make: switch to another app, or don't upgrade to Lion. TUAW breaks down your alternatives.
From chaos to an organized Desktop with Shelves
DesktopShelves is a new app that helps you fight the clutter on your Desktop by organizing files on shelves. A shelf the size of 5 icons holds 20 files. For those obsessed with a clean desktop, this might be the answer.
3 Column Reader Safari extension makes Google Reader beautiful
3 Column Reader turns Google Reader into a 3 column reading experience, perfect for a widescreen LCD screen. If you use Google Reader, this is a great extension for Safari.
Make a Bootable Mac OS X 10.7 Lion Installer from a USB Flash Drive
For those concerned about having a bootable backup of Mac OS X Lion, fear not. OSX Daily hooks you up with a great walk-through of the process. I'll be giving this one a shot the moment I get my hands on the final version of Lion.
Death To The QR Code
QR Codes are everywhere – and they're usually not used in convenient places. Here's a hint, advertisers, QR codes on a billboard aren't going to work… we're busy driving a car at the moment! BusinessInsider.com reflects on the subject.
QR Code generator for Safari
Ok, so the previous article didn't convince you, and you want to create your own QR Codes anyway. QR Code Generator for Safari puts a button in your toolbar which when clicked generates a QR Code for the page you're on.