I've shared a lot of tips and how-tos for Photoshop over the years, and I've trained several production artists and designers on how to use and improve their skills in Photoshop. But one of those things that really hard to explain is color and how to use the features in Photoshop that are related to color. Features like "Blend If."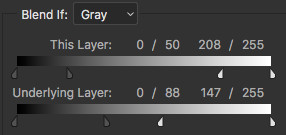 Don't feel bad if you don't recognize the name. You've seen it. And you've probably used it… sort of. But trust me, once you watch this 11-minute video you're going to look forward to the next time you use a Layer Blend Mode. The results can be the difference between so-so and stunning.
If you don't watch or read any Photoshop tutorials this year, make this one the exception!